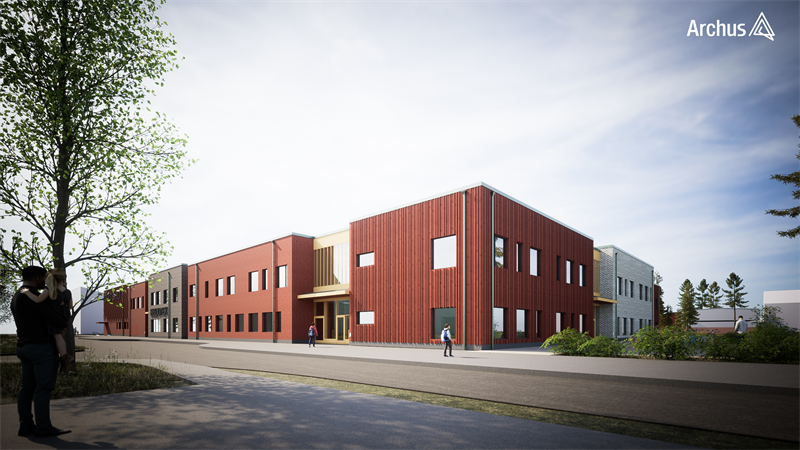 NCC has been commissioned by the City of Västerås to construct Drömfabriken in Skultuna, Västerås. Drömfabriken will be a meeting place with a new school, library and after-school club. The project is a turnkey contract in partnering form with an order value of approximately SEK 340 million.
NCC has now started working with the City of Västerås to build Drömfabriken in Västerås, which will replace the old Persbo School. Drömfabriken will be a new and dynamic meeting place, and a lively after-school space. NCC will first demolish parts of the old Persbo School and then construct two new buildings and a new outdoor area. Some parts of Persbo School will be retained for conversion and extension.
"The aim of Drömfabriken is to encourage optimism in our children and young people. When the new premises are completed, they will be modern and adapted to today's digital world. We are looking forward to implementing this dream project in partnership with NCC," says Rasmus Persson, Administrative Director of Skultuna Municipal District Administration.
Drömfabriken will comprise a school building for Years 4-9, a new school and public library, and a new after-school club. Drömfabriken will be environmentally certified according to Miljöbyggnad Silver, and a re-use inventory will be carried out to determine whether any parts of the former school, which is now 70 years old, can be re-used.
"We have worked closely with the City of Västerås to create a modern and flexible building and school yard that meets the needs of a modern school, as well as the needs of children and young people. NCC is building three schools in Västerås Municipality at the same time, and we see major opportunities for synergies between these projects," says Henrik Landelius, Head of NCC Building Sweden.
NCC has a long history of partnership with the City of Västerås and over the past five years has completed five concept schools, the Lögarängsbadet gym and swim center, Öster Mälarstrand retirement home, and the Dockan parking garage. The parties have also commenced a collaborative planning process for Fredriksdal School in Gäddeholm.
The order value of the project is approximately SEK 340 million, and it will be registered in the NCC Building Sweden business area in the second quarter of 2023. Construction planning and establishment will start immediately, while demolition and production are scheduled to commence in autumn 2023. The project is scheduled for completion in 2026.
NCC is one of the leading construction companies in the Nordics. Based on its expertise in managing complex construction processes, NCC contributes to a positive impact of construction for its customers and society. Operations include building and infrastructure project contracting, asphalt and stone materials production, andcommercial property development. In 2022, NCC had sales of SEK 54 bn and 12,500 employees. The NCC shares are listed on Nasdaq Stockholm.
Source link:https://www.ncc.com/