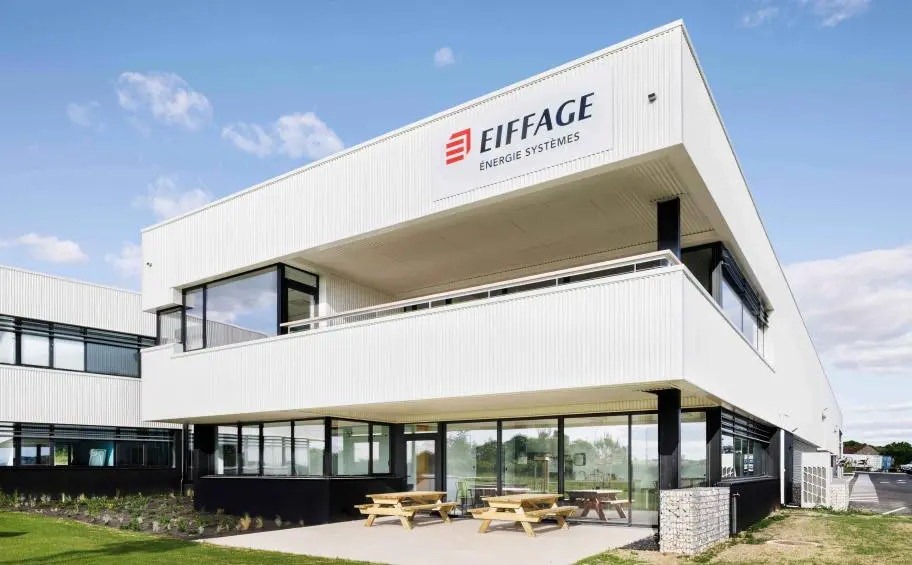 In the heart of the Chemistry Valley and the Lyon Metropolis, this new site brings together on a plot of more than 8 hectares, the head office of Symbio ( Forvia/ Faurecia , Michelin and Stellantis), its R&D center, and the high-capacity manufacturing unit for hydrogen systems. Carried out by Eiffage Construction as agent of the Design and Development Group composed of Ingerop, Groupe 6, Arcadis, ER2I, Eiffage Énergie Systèmes, Eiffage Route, Demcy and Exact Acoustic, this project is part of a global growth approach to 2023 and 2030 and embodies Symbio's commitment to becoming a world leader in the field of hydrogen mobility, a booming technology, full of promise and innovation.
For Symbio, "A Faurecia Michelin Hydrogen Company", our teams built a multifunctional site in a consortium with Ingerop, Groupe 6, Arcadis, ER2I, Eiffage Énergie Systèmes, Eiffage Route, Demcy and Exact Acoustic including: fuel cell production plant hydrogen, logistics store, research and training center, and head office.
Anchored in a rich industrial past, the Saint Fons site is resolutely positioned as the spearhead of the energy transition program supported by France and the European Union. The objectives of this project are multiple: from day one, it aims to achieve "ZERO EMISSION" status, thus symbolizing responsible and carbon-free industries.
Our expertise, put at the service of Symbio, has materialized through the design of high-performance solutions, integrating the latest environmental standards, architectural research, quality of materials and energy optimization. This proactive approach resulted in the implementation of various exemplary actions:
The reuse of materials present on the site after crushing and revaluation;
Selective deconstruction of facilities, followed by careful revaluation and reuse of materials, thereby significantly reducing the use of material transportation;
A "no exit" approach for contaminated land, thus guaranteeing responsible and environmentally friendly treatment;
Installation of equipment and machines necessary for activities
the design, installation and maintenance of HVAC systems to optimize energy efficiency and user comfort.
The recovery of residual heat, reinjected into the office heating network, demonstrating our commitment to energy efficiency;
Electrical installations also including automation;
The reinjection into the Symbio network of electricity generated by hydrogen fuel cell tests, demonstrating our concern to optimize each resource at our disposal;
Installation of photovoltaic panels on the roof;
The integration of GTB (Technical Building Management) and GTC (Centralized Technical Management) guaranteeing intelligent and energy-efficient control of technical installations;
The installation of an electrolyser allowing the clean production of hydrogen by Symbio, a major step forward in our constant quest for innovation and sustainability;
Audiovisual integration meeting visual and auditory communication needs;
Energy-efficient outdoor lighting, ensuring safety and comfort in outdoor spaces;
Operation and maintenance of installations.
The architecture of this project presents itself as an exceptional technological and social showcase for Symbio, highlighting a remarkable modularity of spaces. Covering an area of ​​more than 25,000 m², including 6,500 m² dedicated to controlled atmosphere rooms, this site stands out for its functionality as well as its aesthetics.
Faced with the challenges linked to urban, economic and landscape transformation, the Symbio project is part of the renewal of the Chemistry Valley. While being an essential industrial lung, it also aims to be a green lung, with the installation of green roofs and quality green spaces. These developments demonstrate the site's commitment to sustainable development, and the operation also aims to obtain BREEAM Very Good 65% and carbon neutral certifications.
Ultimately, the Saint Fons site should accommodate more than 650 employees, spread across the production center, research and development, the logistics store, business support premises, as well as the head office offices. .
This major project was made possible thanks to the exceptional collaboration of all the teams involved. Congratulations to everyone for this remarkable achievement.
Source link:https://www.eiffage.com/