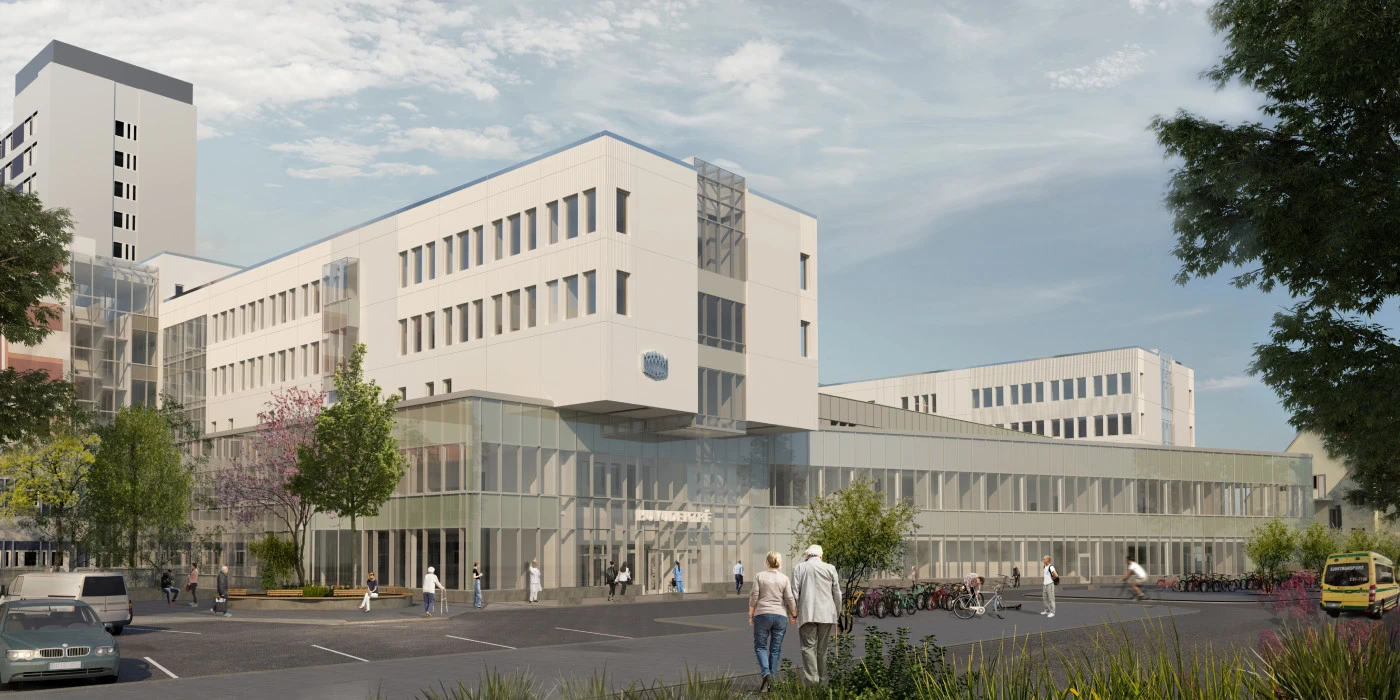 Region Sörmland has contracted NCC to refurbish and convert a total of five floors in two existing hospital buildings at Nyköping lasarett. The projects are the final two sub-projects of the strategic partnering arrangement between NCC and Region Sörmland. The total order value is approximately SEK 270 million.
"We have enjoyed working with NCC over the years and it is with both pleasure and some sadness that we are now embarking upon the final sub-projects of this major investment that is part of Framtidens Sjukhus (Hospitals of the Future). We are looking forward to moving into new, bright, modern and most of all purpose-built premises," says Mathias Hjelte, Facility Manager at Nyköpings lasarett.
NCC will refurbish and adapt buildings N1 and N2 to modern standards in two sub-projects. The buildings are two existing central blocks at Nyköpings lasarett that were built in the 1970s. NCC's work includes demolition, building partitions and new installation systems.
"The collaboration with Region Sörmland and our partners has grown strong over the years and we have gained a lot of experience and knowledge that has proved invaluable throughout all of the sub-projects. We are now looking forward to completing the refurbishment of Nyköpings lasarett and implementing these valuable lessons learned in new projects," says Henrik Landelius, Business Area Manager at NCC.
Planning is under way and construction is scheduled to start in 2024 when the activities located in these buildings have been transferred to the new premises that NCC has already completed.
The projects are the final sub-projects of the strategic framework agreement between NCC and Region Sörmland to expand and convert three hospital in Sörmland. The partnership commenced in June 2015 and orders are registered on an ongoing basis.
The total order value is approximately SEK 270 million and will be registered in the NCC Building Sweden business area in the second quarter of 2023. N2 is scheduled for completion by summer 2025 and N1 by the turn of the year 2025/26.
About NCC
NCC is one of the leading construction companies in the Nordics. Based on its expertise in managing complex construction processes, NCC contributes to the positive impact of construction for its customers and society. Operations include commercial property development, building and infrastructure project contracting, and asphalt and stone materials production. In 2022, NCC had sales of SEK 54 bn and 12,500 employees. NCC's shares are listed on Nasdaq Stockholm.
Source link:https://www.ncc.com/