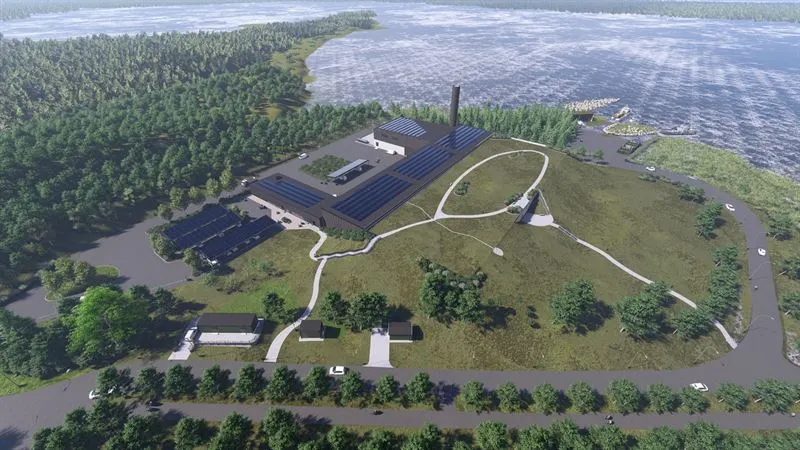 NCC has been contracted by Roslagsvatten to build a new treatment plant in Österåker to secure wastewater treatment for Österåker Municipality and the City of Vaxholm. The work will be carried out as a turnkey contract and the order value is approximately SEK 1.2 billion.
On behalf of Roslagsvatten, NCC will build a new wastewater treatment plant alongside the existing one in Margretelund, Åkersberga. Preliminary works have been ongoing for some time and the project is now entering its next phase. This includes advanced work with special ground conditions, with deep foundation engineering levels in an environment close to the coast.
"Roslagsvatten has been researching various alternatives to secure future wastewater treatment for Österåker Municipality and the City of Vaxholm since 2018. The new treatment plant, which will process wastewater for a long time to come, meets all of the requirements we have in terms of environmental impact, finances and technology. We look forward to working with NCC, who has extensive experience working with complex projects, not least within water and sewage systems," says Christian Wiklund, CEO of Roslagsvatten.
Österåker is growing and needs to increase capacity for the municipality's wastewater treatment, and the existing treatment plant is obsolete. NCC is now building a modern digitalized and automated treatment plant with the latest water treatment technology that will secure water access for 57,000 people. The treatment plant will be flexible enough for future technological development and requirements for treatment and circularity. It will provide its own electricity through solar panels and energy storage, and is adapted for climate change and extreme weather.
"This is a project where NCC can leverage its unique expertise within water and environmental technology. We are now looking forward to helping Österåker and Vaxholm develop a treatment plant that meets their future requirements and needs," says Kenneth Nilsson, Head of NCC Infrastructure.
The new treatment plant will be finished and taken into use in 2028, and the associated staff building will be ready one year later. The order will be registered in the Infrastructure business area in the fourth quarter of 2023 and the order value is approximately SEK 1.2 billion.
About NCC. NCC is one of the leading construction companies in the Nordics. Based on its expertise in managing complex construction processes, NCC contributes to a positive impact of construction for its customers and society. Operations include building and infrastructure project contracting, asphalt and stone materials production, and commercial property development. In 2022, NCC had sales of about SEK 54 bn and 12,500 employees. NCC's shares are listed on Nasdaq Stockholm.
Source link:https://www.ncc.com/