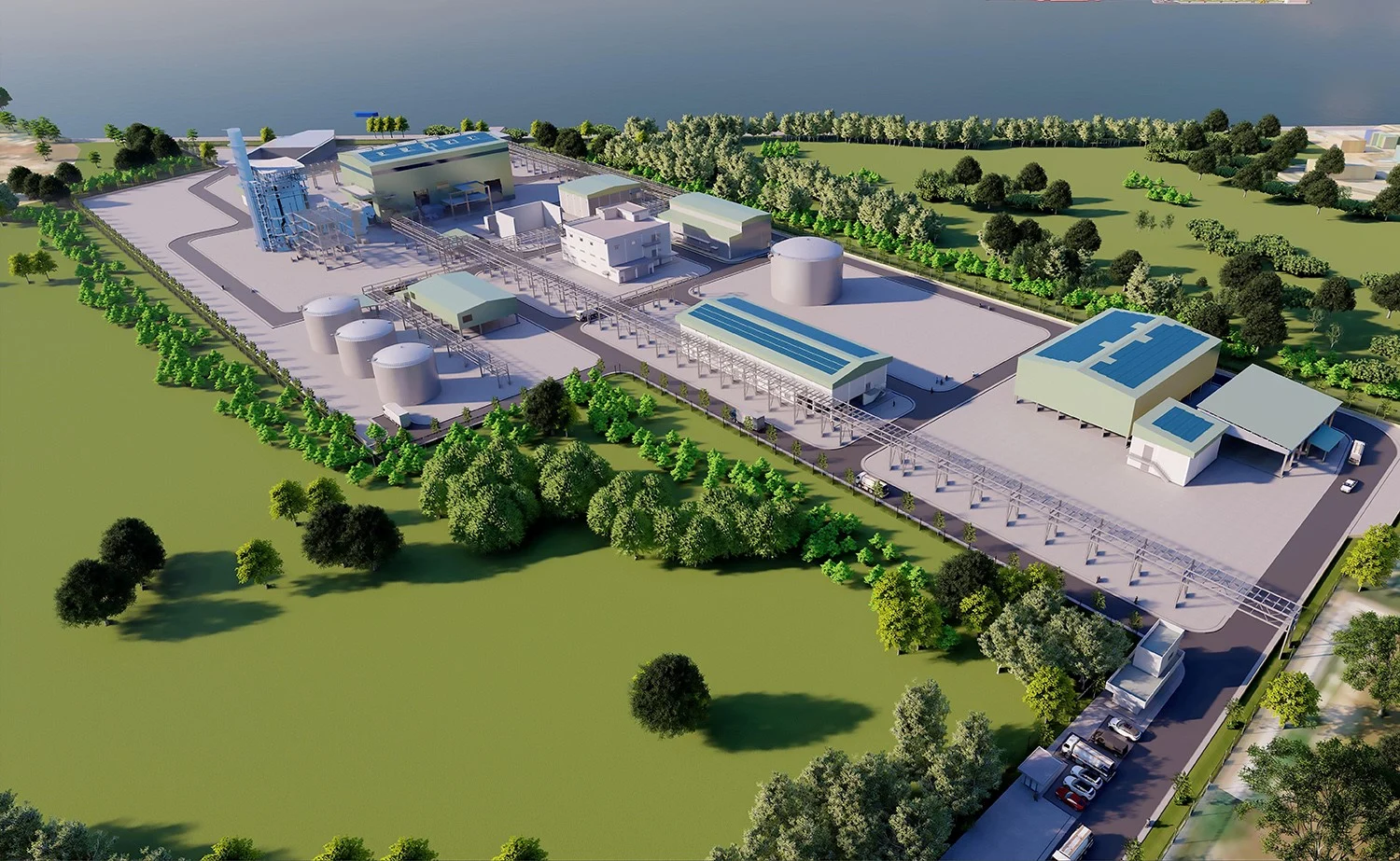 Keppel, together with Mitsubishi Power Asia Pacific and Jurong Engineering consortium, has broken ground for the Keppel Sakra Cogen Plant (KSC Plant), Singapore's first hydrogen ready cogeneration plant today. Located in the Sakra sector of Jurong Island, the KSC Plant will be a 600MW state-of-the-art, advanced combined cycle gas turbine (CCGT) power plant.
The ceremony was officiated by Guest of Honour, Minister for Manpower and Second Minister for Trade and Industry, Dr Tan See Leng, as well as Chief Executive of Energy Market Authority, Mr Ngiam Shih Chun; Chairman of Keppel Corporation, Mr Danny Teoh; CEO of Keppel Corporation, Mr Loh Chin Hua; and CEO of Keppel's Infrastructure Division, Ms Cindy Lim.
The groundbreaking of the KSC plant comes on the back of Singapore identifying hydrogen as a major decarbonisation pathway to support Singapore's international climate commitment to achieve net zero emissions by 2050. The KSC Plant is designed to be able to co-fire with 30% hydrogen content and has the capability of shifting to run entirely on hydrogen in line with the decarbonisation of Singapore's power sector.
In addition, as a CCGT power plant, the KSC Plant would be able to produce steam for use in industrial processes for energy and chemicals customers on Jurong Island.
Expected to be completed in 1H 2026, the KSC Plant will be the most energy efficient among the operating fleet in Singapore, featuring superior performance, such as lower emission intensity and higher operation flexibility. Operating initially on natural gas as a primary fuel, the KSC Plant is envisaged to be able to save up to 220,000 tons per year of CO2 as compared to Singapore's average operating efficiency for equivalent power generated. Such savings in CO2 equivalent translates to taking about 47,000 cars off the road per year.
Ms Cindy Lim, CEO of Infrastructure Division, Keppel, said, "As Singapore's first hydrogen ready power plant, the Keppel Sakra Cogen Plant represents a decisive step by Keppel to invest in best-in-class power generation technology and to pivot to low-carbon solutions for power generation in good time. To this end, Keppel is also working with international partners on low-carbon hydrogen, and hydrogen-derived fuels such as green ammonia, to support the decarbonisation of the energy and chemical industries as well as the maritime and aviation sectors."
Mr Ngiam Shih Chun, CE of Energy Market Authority, added, "As electricity demand will continue to increase, we will need more generation capacity while ensuring that the power sector transitions to a net-zero future. The hydrogen-ready Keppel Sakra Cogen Plant is a good example of the infrastructure we need, and we encourage other generation companies to make similar investments."
Mr Takashi Tozawa, Head of GTCC Business Division, Mitsubishi Heavy Industries, said, "We are honoured to play a key role in Singapore's decarbonisation efforts, supplying the KSC Plant with our cutting-edge JAC gas turbine specifically designed for seamless integration with hydrogen fuel. With a global track record of 110 units ordered, our J-series gas turbines possess unparalleled reliability and efficiency, offering potential to adopt hydrogen into the plant's energy mix. We anticipate continued collaboration with Keppel to help make long term net zero goals a reality in Singapore and the region."
Mr Koichi Watanabe, CEO of Jurong Engineering Limited, added, "We are grateful for the opportunity to work with Keppel and Mitsubishi Power to propel Singapore's green goals. Fueled by our passion for powering a more sustainable future and strong technical expertise, we are confident in our ability to provide innovative solutions aligned with the operating philosophy. Most importantly, we are positive the synergistic partnership will bring forth a project with exceptional quality and safe delivery."
Since 2007, Keppel has been operating a 1,300MW combined cycle gas turbine generation facility on Jurong Island, with a good track record of efficiency and reliability. The plant started with a generation capacity of 500MW and expanded an additional 800MW in 2013.  
About Keppel
Keppel Corporation (SGX:BN4) is a global asset manager and operator with strong expertise in sustainability-related solutions spanning the areas of infrastructure, real estate and connectivity. Headquartered in Singapore, Keppel operates in more than 20 countries worldwide, providing critical infrastructure and services for renewables, clean energy, decarbonisation, sustainable urban renewal and digital connectivity.
Keppel creates value for investors and stakeholders through its quality investment platforms and diverse asset portfolios, including private funds and listed real estate and business trusts. At the end of 2022, Keppel had $50 billion of assets under management.

About Mitsubishi Power
Mitsubishi Power is a power solutions brand of Mitsubishi Heavy Industries, Ltd. (MHI). Across more than 30 countries worldwide, Mitsubishi Power designs, manufactures and maintains equipment and systems that drive decarbonization and ensure delivery of reliable power around the world. Among its solutions are a wide range of gas turbines including hydrogen-fueled gas turbines, solid-oxide fuel cells (SOFCs), and air quality control system (AQCS). Committed to providing exemplary service and working with customers to imagine the future of energy, Mitsubishi Power is also spearheading the development of the digital power plant through its suite of AI-enabled TOMONI® solutions.
About Jurong Engineering Limited
Jurong Engineering Limited (JEL) is a leading engineering and construction company based in Singapore. Since inception in 1971, JEL has reliably delivered successful projects in power & industrial plants in more than 30 countries.
Today, JEL has been involved in over 190 power plants accruing a power capacity of over 88 Gigawatts. With a strong international foothold, JEL has a network of companies spanning across Asia, Africa and the Middle East. Its global initiatives have provided the added advantage to establish strategic collaboration with multinational corporations in the same field. 

With an outstanding track record, strong engineering expertise, and extensive range of experience, our core vision is centred on providing reliable, superior, and comprehensive engineering solutions focused on optimising life cycle efficiency, safety and delivering maximum value to our partners.
Source link:https://www.kepcorp.com/