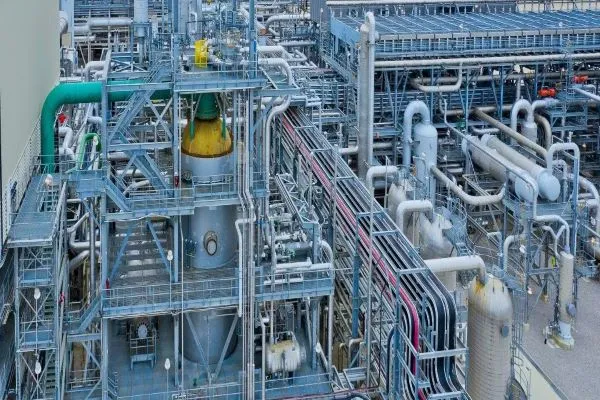 KBR (NYSE: KBR) announced today that it will now offer its clients the option to include a fully integrated and flexible Autothermal Reforming (ATR) technology solution for the production of low carbon ammonia at mega scale.
This offering brings together KBR's world leading ammonia synthesis technology, which provides customers with highly flexible, fully integrated, customized solutions for the production of low carbon ammonia, with Air Liquide's experience in ATR for large scale syngas production applications.
"We are excited to align with Air Liquide to further expand KBR's low-carbon ammonia offerings for energy transition," said Doug Kelly, KBR President, Technology. "Our differentiated ammonia synthesis technology has been the preferred choice for decades, with complete solutions for blue and green ammonia and large-scale capacity of up to 10,000 MTPD. The addition of ATR technology further complements our clean ammonia offerings as we work to advance technology solutions to decarbonize the world."
Michael J. Graff, Executive Vice President, Air Liquide Group, said: "Through this new offering, Air Liquide and KBR will combine their renowned respective expertise to provide efficient, reliable and competitive solutions for the production of ammonia and help the sector engage its low-carbon transition. These will enable customers to grow their business with an optimized carbon footprint, while also contributing to the development of the global hydrogen market. This further illustrates Air Liquide's commitment to sustainable development, supporting customers in industry and mobility to decarbonize their products and operations. This is a core element of our ADVANCE strategic plan, which inseparably links financial and extra financial performance."
When combined with carbon capture technology, the KBR and Air Liquide technology solution allows customers to achieve outstanding energy efficiency, world-leading reliability, a simplified single train production process, and up to 99% carbon capture in highly integrated industrial facilities at an attractive, competitive and compelling investment.
KBR is the world leader in ammonia technology with approximately 50% market share of licensed capacity. Since 1943, KBR has licensed, engineered, or constructed over 250 grassroot ammonia plants worldwide.
About KBR
We deliver science, technology and engineering solutions to governments and companies around the world. KBR employs approximately 32,000 people performing diverse, complex and mission-critical roles in 33 countries.
KBR is proud to work with its customers across the globe to provide technology, value-added services, and long-term operations and maintenance services to ensure consistent delivery with predictable results. At KBR, We Deliver.  
Source link:https://www.kbr.com/