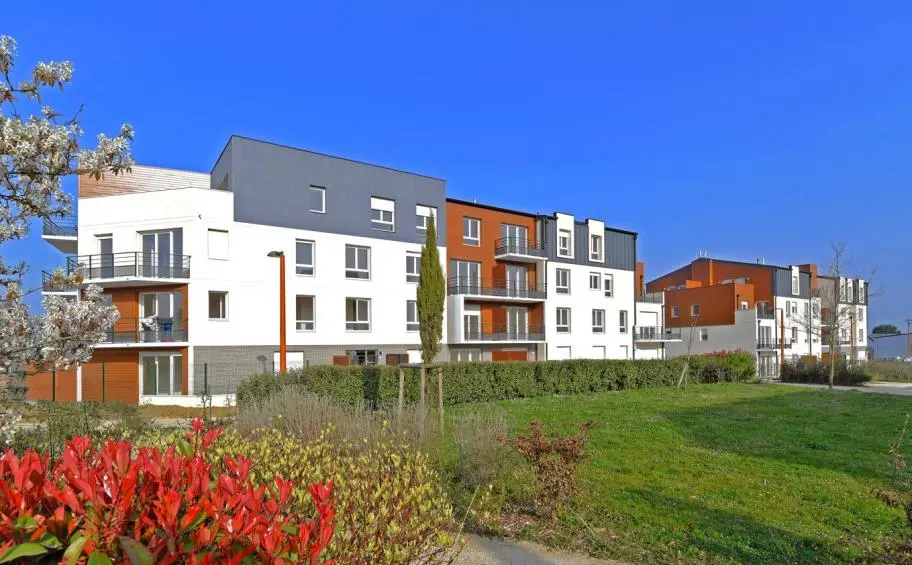 The Eiffage Immobilier teams inaugurated 120 housing units in the Bois des Granges ZAC in Claye-Souilly (77), an area whose development is supported by Eiffage Aménagement and at the heart of which the first residents arrived in April 2022 in the Domaine de Soave residence of Eiffage Immobilier. The work of the operation will have lasted 22 months. 1 work of art has been installed within it, as part of the "1 building, 1 work" charter.
The creation of the new "Le Bois des Granges" eco-district responds to an urban planning need coupled with the challenges of ecological and energy transition. Located at the gates of the Parisian metropolis, bordered by fields, woods and forests, it will offer a pleasant living environment to the new Clayois. The future district benefits from a remarkable location, between two ecological corridors: the Vallée de la Beuvronne to the north and the Vallée de la Marne to the south.

The inauguration of the residence in lot C of this new district of Bois des Granges completes the housing offer which follows the delivery of 60 residences in the Residence Domaine de Soave on lot B. This Eiffage real estate project of 7,100 m², designed by the DT Architecture agency, is the result of land work initiated with the City and Eiffage Aménagement in 2019.

This operation is broken down into 3 residences, sold to 3 major players, namely:
Trois Moulins Habitat for a 35-unit social residence;
INLI for 50 intermediate dwellings;
And CDC Habitat for 35 vacant rental units;
their presence within a single operation thus perfectly illustrating the residential course. The ambition of this set is to bring a dimension of mixed use within this new Quartier du Bois des Granges.

The operation aims for the NF Habitat HQE Very efficient and E+C- environmental labels and certifications, permitted in particular thanks to compliance with the low nuisance site charter but also the waste management plan put in place during the duration of the works. In addition, future housing will benefit from a collective boiler room, for better energy management and distribution.
The work of art "1250.30", created by the artist Eric FERBER, as part of the "1 building 1 work" charter signed in 2015 with the Ministry of Culture, has already been installed, thus contributing to the cultural influence of the neighborhood.
 
Well done to the teams and thank you to our partners without whom this project would not have been possible
Source link:https://www.eiffage.com/