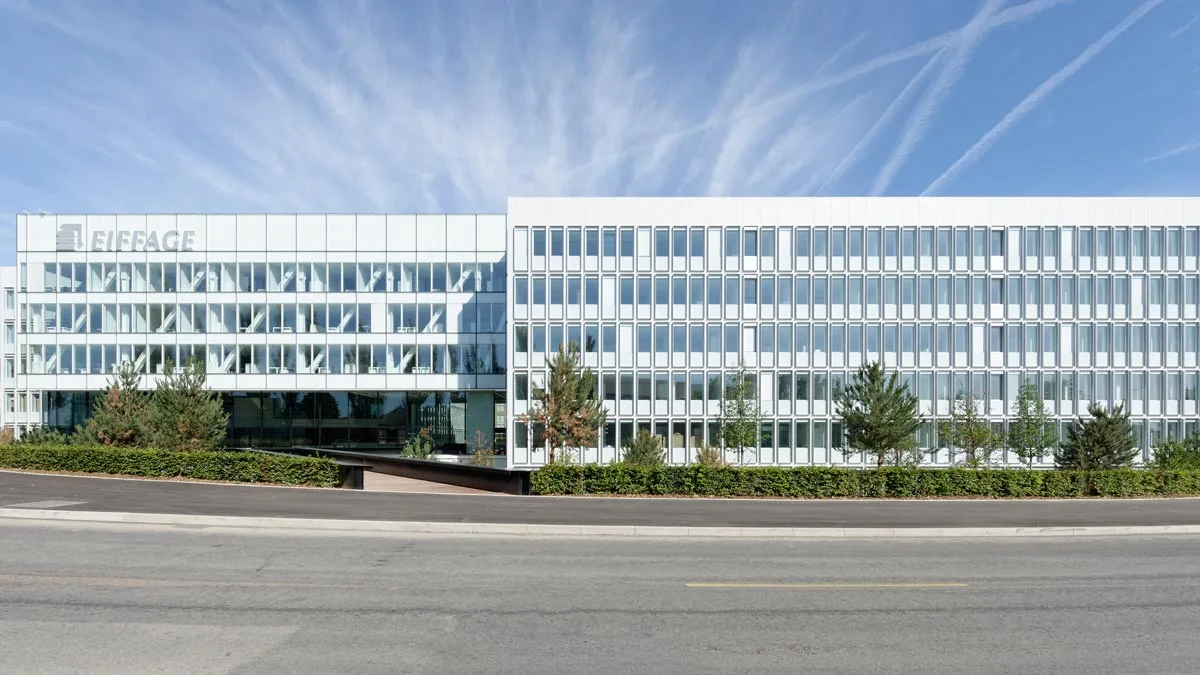 In 2008, Eiffage Construction led the construction of the first 4 buildings (56,500 m²) of the Dassault Systèmes headquarters in Vélizy, then a 5th building (12,800 m2) in 2016. Thirteen years later, we delivered the extension of 27,500 m² (R+5) of the Dassault Systèmes Campus in Vélizy-Villacoublay and Meudon.
Led by Covivio and Crédit Agricole Assurances, owners of the site, this extension project involved the construction of a new building to supplement the existing 68,500 m2 . Covivio has renewed its confidence in us by awarding us these extension works. As a reminder, in 2008 we had already ensured the construction of the first 4 buildings (56,500 m 2 ) of the Dassault Systèmes headquarters, then the construction of a 5th building (12,800 m 2 ) in 2016.
Designed by Arte Charpentier Architectes, the new 5-storey building revolves around a central patio revealing a glass roof and a monumental staircase leading to 3 levels. Future occupants will benefit from many points of exchange and relaxation, such as an auditorium, places to eat, 3 fitness areas, and will have 705 parking spaces spread over 3 basement levels.
Ambitious, the project aims for the environmental labels and certifications Breeam 2016 Very Good, NF HQE 2016 level Excellent, E+/C- level E2C1, R2S and OSMOZ. To achieve this, in addition to the photovoltaic panels and the connection to the VELIDIS urban heating network, the project incorporates increased technical requirements in terms of the building envelope. Goyer, an Eiffage group entity specializing in the design and implementation of made-to-measure facades, has developed an alternative design for glazing, whose life cycle analysis shows a reduction in the building's carbon footprint while achieving the same thermal performance as triple glazing.
 
Congratulations to our Eiffage Construction teams who carried out this 100% BIM operation in 26 months, a record time (the work started on 08/03/21 and was completed on 15/05/2023)!
Source link:https://www.eiffage.com/