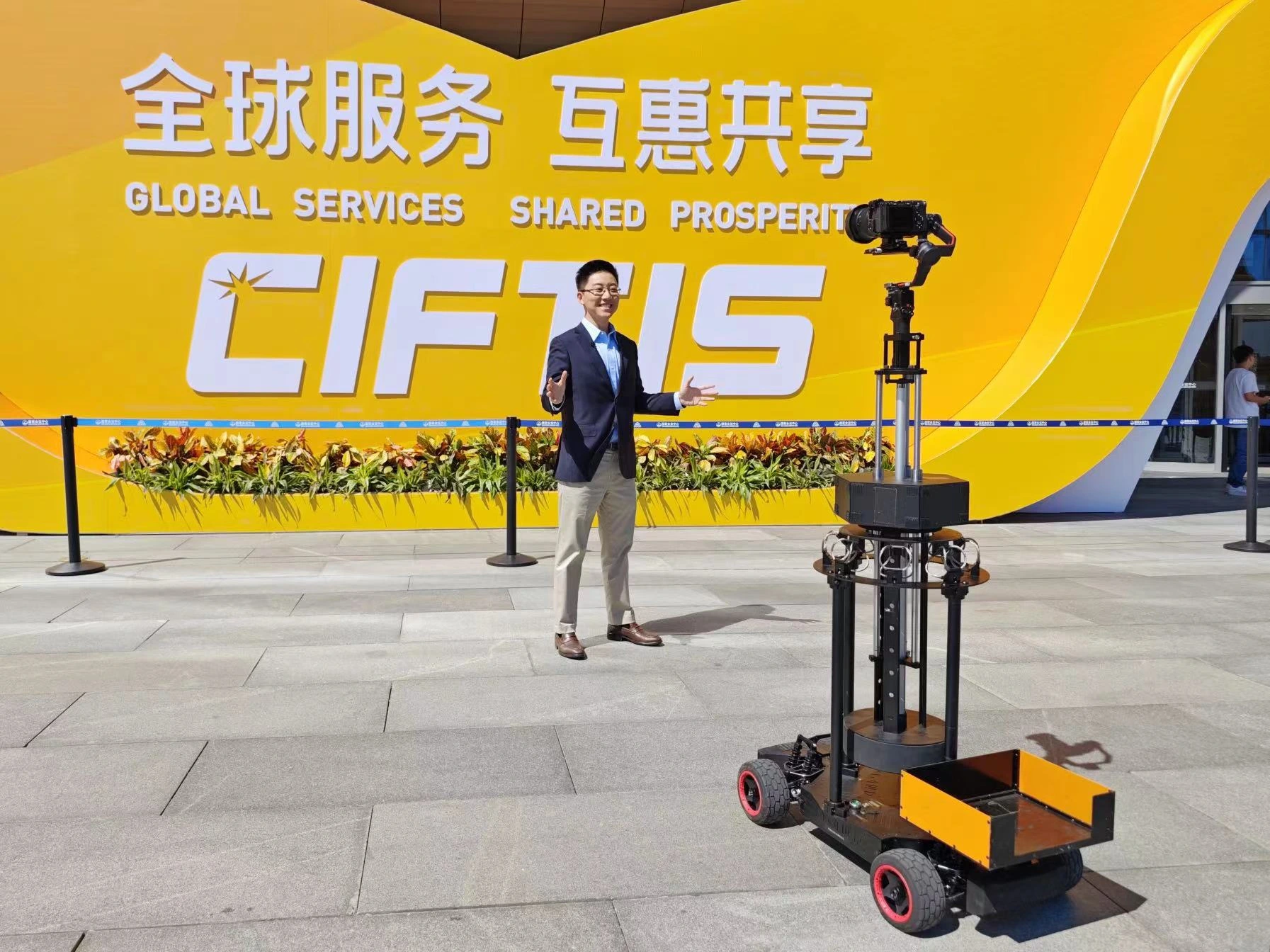 From September 2 to September 6, the 2023 China International Fair for Trade in Services (CIFTIS) was held in Beijing. Six subsidiaries under CSCEC attended the event, showcasing the CSCEC's technical strength and service capabilities in areas such as green building, intelligent equipment, smart construction site management, and integrated intelligent systems. Exhibits including physical models, holographic projections, VR experiences, and touch screen interactions provided visitors with immersive, interactive, and smart exhibition experiences.
Building Robots
In the exhibition hall, four types of building robots attracted many visitors. The "X-MEN" robot serves as a "doctor" for construction, which automatically identifies common quality issues. The dog-shaped monitoring robot functions as "security" at project sites, significantly improving inspection efficiency. The intelligent transfer robot, modeled after CSCEC's mascot Blue Treasure, is a great helper for material transportation. The building electromechanical pipeline installation robot, acting as an "electrician," features controllable retractable arms for installation within pipes of different diameters. The interior wall painting robot can work flexibly in tight spaces.
Smart Future City
CSCEC aims to create future urban communities that are energy-efficient, carbon-reducing, smartly interconnected, livable and resilient by applying digital technology and innovative building energy systems.
Skyscraper-building Machine
This machine can build a floor in as fast as four days and has been applied to over 20 skyscrapers in China, greatly enhancing construction efficiency and quality.
Changeable Interspace House
Developed independently by CSCEC, the Changeable Interspace House breaks the limitations of building structures on indoor spaces. It establishes a new and cost-effective residential system with a prefabrication rate and assembly rate of over 90%.
CSCEC Stone-making Machine
CSCEC's independently developed world's first tunnel boring mud recycling production line can transform mud into green building materials.
Bridge-building Machine
This equipment has been successfully used in the Brunei Tempurong Bridge, where all machinery adopts the "propped-up" construction techniques that makes the entire process of bridge construction in the air and tasks such as pile foundation and beam erection are completed on a mobile steel platform, without touching the swampy ground, which can effectively protect rainforest vegetation.
Xi'an Happiness Forest Belt
This project adheres to green construction and systematic intelligent energy-saving operation, reducing carbon emissions by approximately 120,000 tons per year.
Ulansuhai Nur ecological restoration project
Covering an area of approximately 14,700 square kilometers, this project includes two large-scale planting machines independently developed by CSCEC, solving the challenge of laying grass squares in large desert and achieving industrialized desert control.
Source link:https://english.cscec.com/