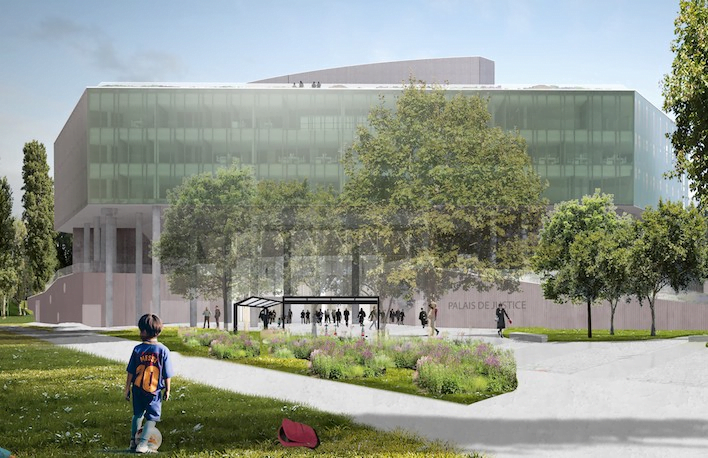 On June 26 and 27, 2023, two presidential visits highlighted two of our emblematic operations. Under the Marseille sun, Emmanuel Macron, President of the Republic, came to take the pulse of our Baumettes site and discover our operation of the replica of the Cosquer cave.
Focus on the Baumettes visit :
Presidential visit under the Marseille sun for our Baumettes site with the arrival of Emmanuel Macron, President of the French Republic, Eric Dupont Moretti, Minister of Justice, and Gerald Darmanin, Minister from the inside, in the presence of Olivier Genis, President of Eiffage Construction, David Barjon, Managing Director of APIJ (Public Agency for Justice Real Estate), Renaud Muselier, President of the Provence-Alpes Regional Council -Côte d'Azur, by Benoît Payan, Mayor of the City of Marseille and the Groupe-6 architecture firm.
The operation, carried out under the project management of the APIJ (Public Agency for Justice Property), consists of the reconstruction, on the historic site of 4.3 hectares, of 740 places of detention.

Entirely carried out in BIM by our teams, this new prison establishment will include five accommodation areas and a disciplinary area for which particular attention has been paid to summer comfort, the grouping of administrative services, a theater, four sports fields and a parking lot. The layout of the buildings on the site has been designed to minimize the impact of the establishment on its immediate environment.

The project is carried out by a "design and construction" consortium led by the South-East teams of Eiffage Construction, with the architecture firms Groupe-6, WTF/A – Architectes Associés, CS Ingénierie, the Eiffage Énergie Systèmes teams, WSP France and Inddigo in design offices.
Zoom on the visit of the Cosquer cave :
Installed in the heart of the Villa Méditerranée, the replica of the Cosquer cave is the result of our BIM Eiffage Construction expertise.

On this project, the use of BIM was the nerve center of the whole operation: after having collected the cave data from the State services, a cloud of points was digitized and served as the basis for the 3D reconstruction of the original cave, allowing artists to paint the molded walls and resin panels.

Thanks to this process and this faithful modeling, visitors can project themselves into these cavities with a rich rock heritage, made up of prehistoric paintings and today threatened by the rising waters of the Mediterranean.
Try by experience? Aboard electric nacelles, embark on a discovery of the Cosquer Méditerranée cave, as if you were there. Immersion guaranteed in this prehistoric heritage setting!
Source link:https://www.eiffage.com/