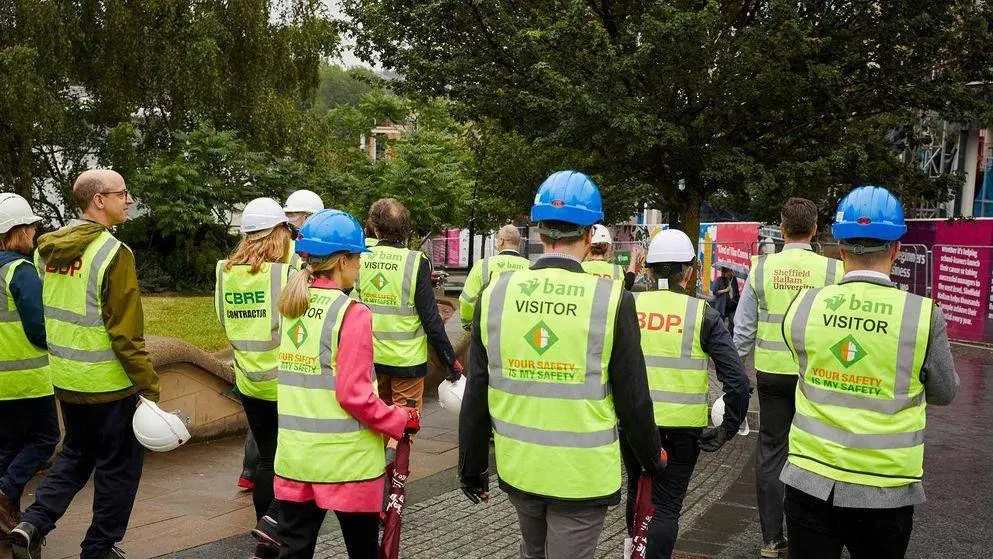 A topping out ceremony for the city campus development at Sheffield Hallam University has taken place, with BAM joined by representatives from Sheffield Hallam University, South Yorkshire Mayor Oliver Coppard, and Hallam Alliance partners.
The topping out ceremony marked the highest point in the construction of the multi-million pound development in Sheffield city centre. BAM was joined on site by South Yorkshire Mayor, Oliver Coppard, University Vice-Chancellor, Professor Sir Chris Husbands, Alliance partners CBRE and BDP Arup, as well as Sheffield Hallam students and apprentices currently on placement with BAM and CBRE.
This first phase of the campus plan will deliver state-of-the-art facilities for students and staff, as well as enhancing a major gateway to Sheffield City Centre and creating a vibrant site for the wider community to share.
The development will provide a new home for the Sheffield Business School; the College of Social Sciences and Arts including SHU Law, the University's not-for-profit teaching law firm, and a South Yorkshire Institute of Technology site as well as providing several food outlets and social spaces.
Hallam Green will provide more than 400 square meters of new greenery and spaces for up to 150 people to sit and relax. The University has invested significantly in biodiversity as part of the development with green roofs and roof terraces, and green corridors, an integral part of the plans.
Designs include the latest technology and measures to make the new buildings zero carbon ready. They include the use of sustainable energy solutions such as heat pumps, maximising the use of photo voltaic panels and provisions to support and promote sustainable travel.
Sheffield Hallam University Vice-Chancellor, Professor Sir Chris Husbands, said: 'Delivering this first phase of the campus plan represents a significant investment in our University and our city, and we're proud to have reached this milestone in the construction. This development is one of the pledges in Sheffield Hallam's Civic University Agreement and we are committed to delivering outstanding facilities for the university community, modelling zero carbon ready construction, and to working with local partners to ensure that we maximise the benefits for Sheffield and the wider region.'
Source link:https://www.bam.com/