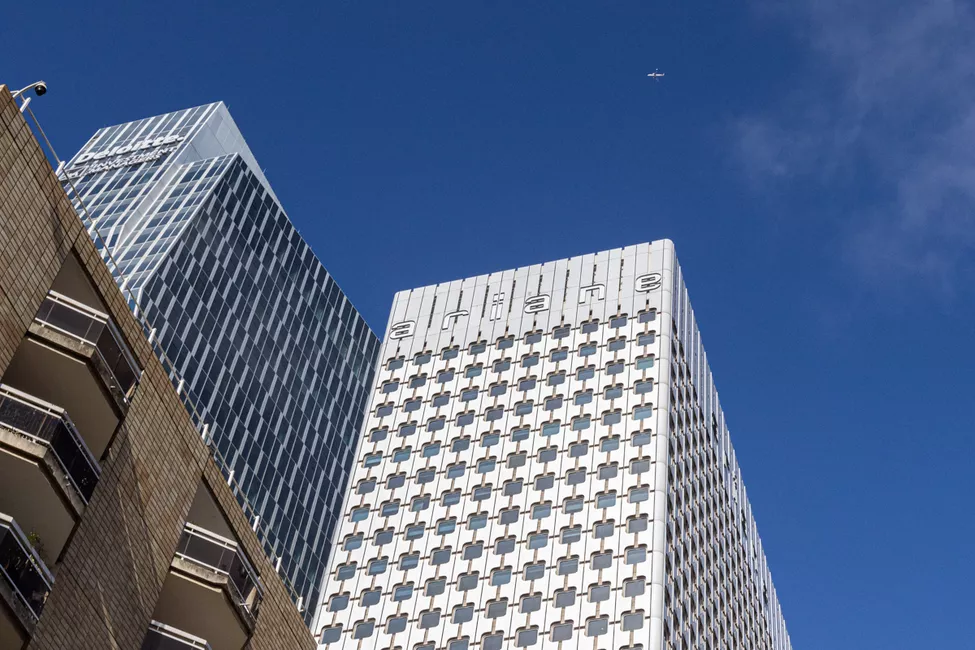 Goyer, a subsidiary of Eiffage and the French leader in aluminum and glass facades, has started renovation work on the facades of the Ariane tower in the La Défense business district on behalf of Euro Ariane SAS represented by BauMont Real Estate Capital and Aquila Asset Management.
The project consists of removing the existing facades, enhancing the elements resulting from the deconstruction and creating a new skin, ie 23,320 m2 of facades incorporating more than 2,240 blocks. The deconstruction work and installation of the new facades are carried out on an occupied site, taking all the necessary measures to limit nuisances both to local residents and to the occupants of the tower.
Designed by the architect Jean de Mailly, the Ariane tower is one of the emblematic buildings of the district. Covering an area of ​​64,500 m2, it comprises 41 floors and 6 levels of infrastructure. Its renovation was designed by the architecture agency Nouvelle AOM. The future facade will bring a new identity to the building, while preserving the characteristics of its original architecture, and offering the thermal and acoustic performance of the most advanced offices.
In response to the project owner's request to reduce the project's carbon footprint, Goyer proposed the recovery of elements from deconstruction, i.e. the recycling of around a hundred tonnes of aluminum from existing shields and 220 tons of glass for the glazing. In total, this initiative represents a reduction of 800 tonnes of carbon emissions. The possibilities of reuse were also explored: 220 aluminum shields will be reused for the creation of an artistic composition in the reception hall of the tower.
The execution studies have just started. After a phase of prototypes to refine the choices and technical solutions, Goyer began by preparing the site with the installation of platforms all around the building. The removal of the existing facades began with the removal of the existing shields, and the installation of the new skin will start next September after a phase of restoration of the existing concrete.
Goyer has already contributed to the realization of several emblematic projects by their technicality and their architectural style in Paris-La Défense including several renovation projects such as those of the Grande Arche, the Landscape tower or the Latitude office building. The company has placed the reduction of the carbon footprint at the heart of its strategy, which is part of that of the Eiffage group. The search for solutions to recycle waste related to manufacturing and that resulting from the deconstruction of facades is one of the concrete applications put in place.
Source link:https://www.eiffage.com/