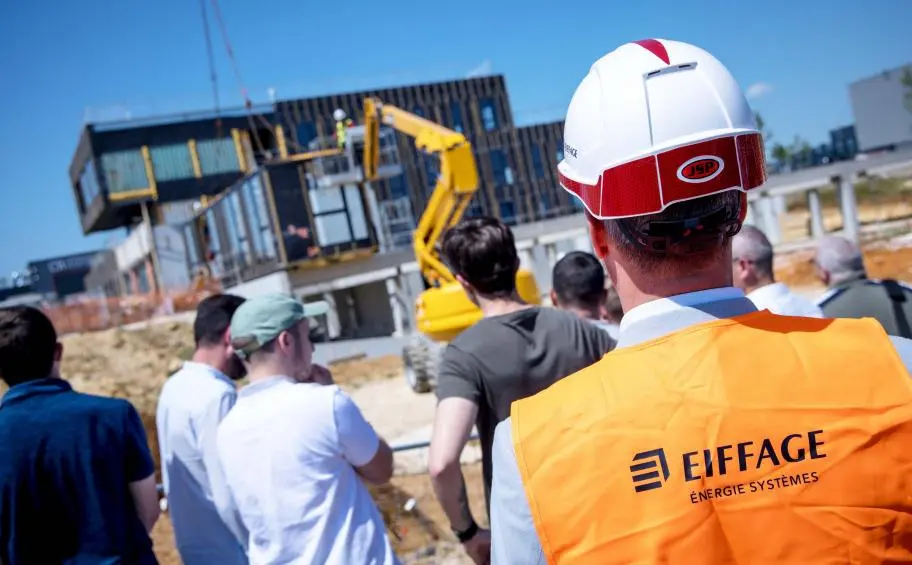 In Châtellerault, Eiffage Construction is laying the first stone for the extension of the Ceramic Coating Center – CCC site (specialist in high temperature coating for aircraft turbines) in Châtellerault (86) for the 2 leading global aeronautical engine manufacturers: the French Safran aircraft engines and German MTU Aero Engines (co-owner). After a five-month design phase, Eiffage Construction's Poitou Charentes teams began work last July. This large-scale work, which should be completed on April 1, 2024, aims to expand the site by adding 3,000 m² of workshops, offices and technical premises, as well as the associated road infrastructure. In accordance with customer expectations,
Created in 2000 and based in Châtellerault, Ceramic Coating Center (CCC) is a 50/50 joint venture between Safran Aircraft Engines and MTU Aero Engines. This center of excellence, the only one of its kind on the European continent, specializes in high-temperature ceramic coatings for aircraft turbines.
The growth of the civil aeronautics market has made it imperative to resize the Châtellerault production site, inaugurated in 2000. The extension project, approved in 2022 by the two industrial partners, aims to double, by by 2026, the production capacity of the site. This expansion will house an innovative machine for depositing ceramic thermal barriers on hot components of aircraft and helicopter engines.
The 3000 m2 extension will allow CCC to have a new industrial tool that complies with the strictest environmental standards, in particular the 2020 Environmental Regulations (RE2020 for offices and RT2012 for workshops):
More than 30% of the building's total energy consumption will come from solar energy captured by panels installed on the roof.
Reinforced insulation, combined with an optimized ventilation system and an architectural configuration favoring the use of natural light, will make it possible to keep the building's energy consumption below 80 kWh/m²/year.
The carbon footprint of the construction will be less than 800 kgCO 2 /m 2 , thanks to rational management of materials and the use of low-emission materials, notably low-carbon concrete.
The use of the new machine will save 1,800 tonnes of CO 2 equivalent .
We warmly congratulate our teams for their exemplary involvement in this innovative project!
Source link:https://www.eiffage.com/