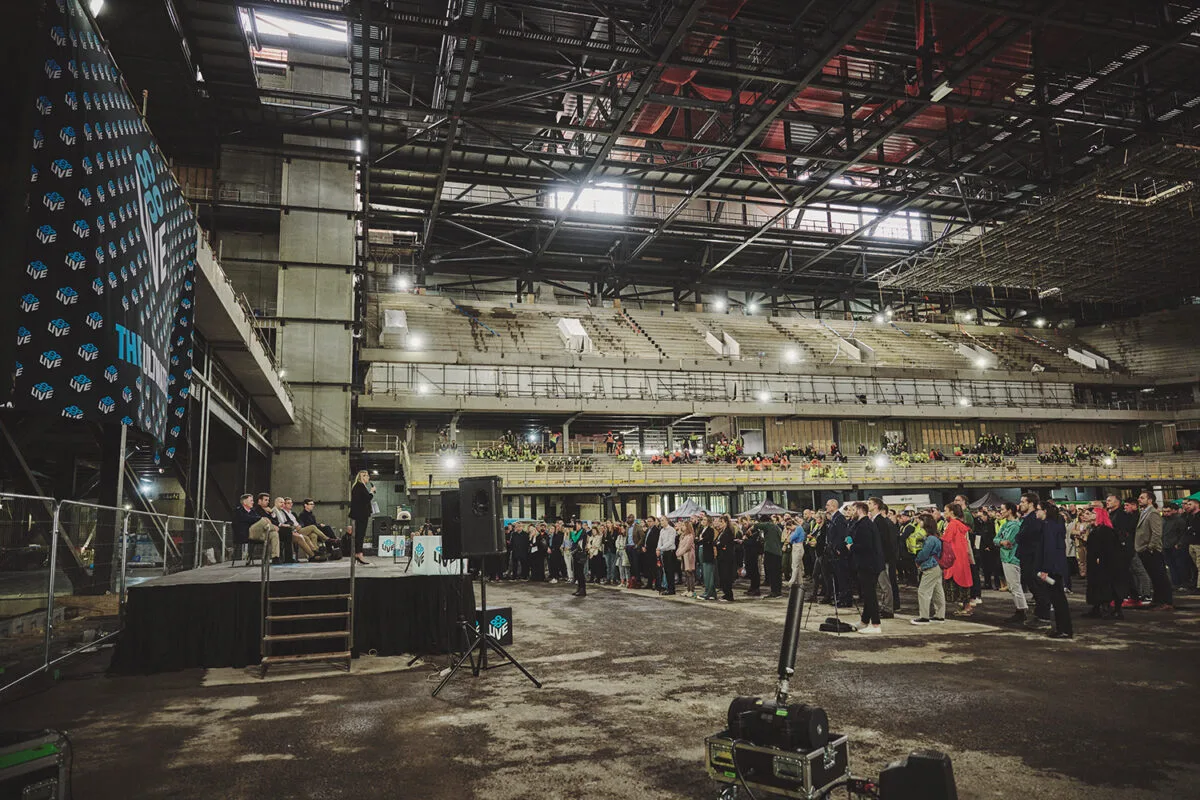 BAM and its project partners celebrated 'topping out' at Co-op Live this week (Wednesday 5 July), marking the final stage of roof construction and a major milestone in development ahead of the UK's largest and most sustainable live entertainment arena opening its doors in April 2024.
Guests included partners, venue stakeholders as well as BAM's team and supply chain partners responsible for bringing Co-op Live to life. Attendees were invited to sign the final acoustically treated roof cassette, lifted into place to top out the structure, with their signatures becoming part of the permanent structure.
Led by a keynote welcome from joint-venture partner Oak View Group CEO, Tim Leiweke, the event also included speeches from Manchester Mayor, Andy Burnham, City Football Group CEO, Ferran Soriano; naming-rights partner Co-op Director of Marketing Communications, Amanda Jennings; and BAM Construct UK Executive Director, James Wimpenny.
The event highlighted the positive impact that the arena will have on communities both locally and nationally, with speakers celebrating that construction alone has generated more than 3,350 jobs with a further 2,000 roles set to be filled ahead of the venue's opening.
Co-op emphasised the unique nature of the partnership and the deep integration across its business, highlighting the benefits for its Members and Co-op food innovation, while Leiweke and Co-op Live Executive Director and General Manager, Gary Roden, celebrated the venue's innovative positioning across the global entertainment market.
Tim Leiweke, Oak View Group CEO said: 'In the last decade, Manchester has slipped from a top three global concert market, and is now no longer even in the top ten. That is not a reflection of the music or audiences of Manchester, which are stronger than ever. It is a reflection on investment in cultural infrastructure.
Co-op Live will put Manchester back where it deserves to be, as a global entertainment powerhouse.'
Gary Roden, Co-op Live Executive Director and General Manager, added: 'I have no doubt this venue is going to be one of the world's best live entertainment experiences, and we can't wait to announce the iconic artists who will play our stage very soon.'
Once complete, Co-op Live will be located on the Etihad Campus which is also home to Manchester City FC, a founding member of the City Football Group who is partnering with Oak View Group on the project.
Commenting on Co-op Live, Ferran Soriano, CEO at City Football Group, said: 'Co-op Live will play a pivotal role in City Football Group's plans to develop the Etihad Campus into a year-round entertainment destination, but it will also bring with it a significant source of community, employment, and economic opportunity for the city of Manchester and its people. We are incredibly proud to have partnered with OVG on this project and look forward to welcoming fans from across the world to the arena next year.'
Co-op Live will be the UK's most socially responsible arena. It is committed to sustainability with a strong focus on all-green electric power, zero waste to landfill, and 100 per cent rainwater collection. By aligning with the values of its naming rights partner Co-op, Co-op Live will donate at least £1 million a year to help the Co-op Foundation deliver on its new youth-led strategy and Co-op's vision of 'Co-operating for a fairer world'. This collective effort will be known as 'Gigs that Give Back' emphasising the venue and partnership's commitment to making a positive impact.
Amanda Jennings, Director of Marketing Communications at Co-op, said: 'This arena will embody Co-op's principles, values and vision and we're looking forward to seeing these brought to life through this unique partnership, which has been five years in the making. We're excited to start sharing more detail on what we have in the pipeline for our Co-op members. As well as offering first in line access to tickets for every event, we're developing a delicious new range of Co-op food that will be exclusively available at Co-op Live, as well as perks in the venue and access to money can't buy experiences via the Co-op members app.'
Co-op Live will open its doors in April 2024.
About Co-op Live
Oak View Group (OVG), City Football Group (CFG), Harry Styles, and Co-op are joining forces to create Co-op Live, the biggest and best arena in the UK. Based in Manchester, the project is injecting £365m of private investment into the Northwest. Co-op Live will be one of the world's premier music and entertainment venues, rivalling New York's Madison Square Garden, The Forum in LA and The O2 in London.
World class, planet friendly and at the heart of the local community, Co-op Live will deliver one of the world's most pioneering, sustainable, and socially responsible venues, delivering Co-op's vision of a fairer world into the entertainment industry.
The project will create 3,350 constructions jobs and 1,000 roles and apprenticeships on completion of the venue as well as giving over £1 million back to national and local good causes.
Co-op Live will be located on the Etihad Campus, and will host live music, sport, comedy, award shows and family entertainment. Co-op Live's smart 'bowl' design means it is big but intimate with cutting edge visual technology, incredible acoustics and 32 bars, restaurants, lounges, and club spaces.
Source link:https://www.bam.com/